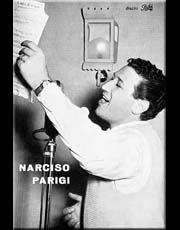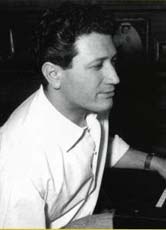 Narciso Parigi (Campi Bisenzio, November 29th, 1927), Italian singer and actor. In the wake of Odoardo Spadaro's work, Narciso Parigi has dedicated himself to Florentine classical songs and to the Italian melodic one. He made his debut on radio very young, in 1944, and he will have had a brilliant career that brought him to perform as in Italy as abroad.
Among his great results there are to remember three partecipations to the Festival di Sanremo: in 1955 with "Incantatella"
Cd N°4
of the series
Via Asiago, 10
, positioned on the fourth place; in 1956 with "Ci-ci-u-ci (cantava un usignol)" together with Natalino Otto (seventh place) and in 1962 with "Vita" together with Giorgio Consolini.
As well as for his singing repertoire Narciso Parigi became very popular also for his interpretation of ACF Fiorentina's anthem, the team whose he has always been a great fan.
His filmography includes:
La prigioniera di Amalfi (1952)
Acque amare (1954)
Terra straniera (1954)
Ricordami (1955)
La porta dei sogni (1955)
Amarti è il mio destino (1957)
Good bye Firenze-Arrivederci Firenze (1958)
Napoleone a Firenze (1963).
Recently he has made a new version of "viola" team's anthem and he has often been guest of several TV programs.